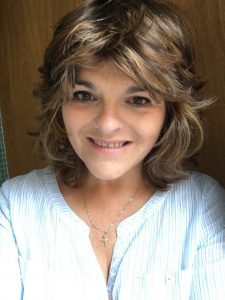 After a number of years working as a  television news journalist, I took a break to raise a young family. I now run my own media consultancy business.  It gives me the freedom to pursue my other interests, choral conducting, classical singing and piano.  I have qualifications and graded examinations (ABRSM) in all the above. I teach music both in schools and privately.
CAREER HISTORY
After graduating in English from Southampton University I "cut my teeth" in front of the TV cameras working in local television (Gibraltar Broadcasting Corporation, GBC.)
After three years at GBC I moved to Sky News in 1992 as a reporter/stringer in Madrid for two years before moving back to Sky HQ in London for a stint on the Sunrise programme.
Selected as part of the launch team at APTN's London newsroom (Associated Press Television News) the next three years were spent on numerous assignments throughout western Europe, (including the UK news desk) Africa and producing daily segments for the Latin America desk. I also worked as Eurovision News Editor for a year providing maternity cover.
In 1997 I joined the BBC in London where my career spanned a range of outlets and programme formats: BBC World TV, BBC World Service radio, BBC News 24 (now renamed BBC News Channel) and BBC News Interactive.  Work experience and skills include television reporting and presenting, producing long-form specialist television news programmes, (HardTalk, Europe Direct, The World Today, Newswatch) extensive, international newsgathering in the field, (breaking news as well as set-piece, live Outside Broadcasts), radio and television sequence programmes, live, simultaneous translation and commentary, news editor and television output editor on live TV bulletins.
Alongside work with the BBC, I have also covered UK news as London correspondent for Spanish, national news networks Antena 3 TV and Onda Cero Radio. Over the last six years I've added media training and consultancy to my work portfolio. Clients range from local broadcasters to financial PR firms, the BBC, Antena 3 and CuartoPoder (where I edited and translated a journalism eBook.)