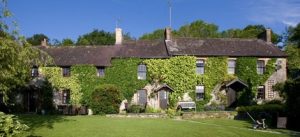 Sheer, luxurious, family-holiday-heaven in a beautiful spot in Pembrokeshire. That's how I would describe Clydey Cottages. The phrase 'rural idyll' was invented for it. We spent a wonderful week there with our two young sons in August 2013 and wished we'd spent two.  They really have thought of everything – dreamy, chocolate-box cottages with every modern comfort you could wish for.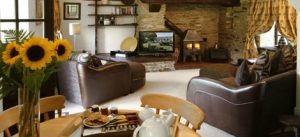 Views that would inspire another generation of romantic poets, wandering around fields, staring at blue skies and fluffy, white clouds.  For children they've got playtime covered: outdoor play area with sandpit, swings and climbing frame?  Check.  Fancy swinging from the trees in a home-made rubber-tyre, Tarzan-like device?  Check.  Outdoor area with ride-on trikes and bikes?  Check.  Amazing indoor pool and spa area with hot tub and sauna for weary parents? Check.  Games room with table tennis, table football and an indoor soft-play area with Playstation and comfy leather seats and cappuccino machine for the parents? Check. 
There's even a small organic farm and a friendly farmer who'll happily take the kids with him to feed the animals every morning at 9.30 (my sons were thrilled to bits to be presented with Young Farmer certificates at the end of our stay.) Helpful, friendly staff are on hand (one even hung my washing out for me so we could head off on a day out one morning!)
If I could magic up one final, dreamy 'plugin' to this mini-paradise it would be a small café/bistro where we could enjoy hot drinks and light lunches or snacks (to take a break from cooking while on holiday.) Then we'd definitely never leave the place at all while we were there! Yes, it's pricey, at almost £2,000 a week for a 2-bed self-catering cottage, but as with everything in life I suppose, you get what you pay for. I wasn't surprised when I read that Clydey Cottages had been voted Number 1 in a survey carried out by the Family Holiday Website "Baby-Friendly Boltholes." Holiday heaven awaits, for families wanting to 'get away from it all' in this gorgeous corner of Pembrokeshire.
Clydey Cottages Pembrokeshire
Penrallt, Lancych, Boncath
Pembrokeshire, SA37 0LW
Wales
T: 01239 698619
E: info@clydeycottages.co.uk