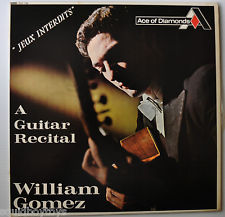 It's amazing how a piece of music can move you to tears, give you goose-bumps. I came across this clip of the stunningly beautiful "Ave Maria" written by the late, Gibraltarian guitarist and composer, William Gomez, conducted by another supremely talented Gibraltarian, conductor Karel Chichon. This was performed by the Latvian soprano, Elina Garanca at the Vienna State Opera House. One talented "llanito" (Gibraltarian) keeping another's musical legacy alive.
For being such a tiny place, Gibraltar certainly knows how to produce some talent. And if you believe in coincidences, I learnt that today (2nd December) was the 13th anniversary of William Gomez's passing. A man of extraordinary musical ability as a classical guitarist but also a talented performer on the stage where he won several "Best Actor" and "Best Producer" awards in local drama festivals. He also happened to be my guitar teacher from the age of 7 when I first started my formal, music education. As a young child, struggling to get my fingers to stretch to the right fret, he was extraordinarily patient even when I hadn't done as much guitar practice as I should have.
Despite having a child's limited knowledge of the world, I could sense even then that I was in the presence of someone special, one of life's "greats" as my father once described him. He could be garrulous and had a fearsome temper when provoked. We can blame the artistic temperament, I'm sure that had something to do with it, but on reflection, having got to know his personality over the years, I can now see that his moods must have been triggered by sheer frustration. It can't have been easy for a man of his virtuoso talent to be entirely fulfilled by life as a music teacher when he could have "made it" as an international, classical guitarist.
As I understand it his fledgling career was truncated by various setbacks, among them the political antagonism shown towards Gibraltarians in Spain, where he had been a pupil of the Spanish, classical guitarist Narciso Yepes. His career as a soloist never got off the ground as it should have done given his talent. There were also very limited career opportunities available to young musicians in Gibraltar during the many years that Spain kept its border shut. In the late eighties and early nineties William did succeed with his ensemble "Vibrations" and recorded a hit CD. He also toured throughout Spain and the UK, while continuing to perform at numerous concerts on the Rock, including an unforgettable evening with the top Spanish, flamenco guitarist, Paco de Lucia.
His influence on music in Gibraltar over the last forty years has been immense and his legacy lives on – now the baton has been taken up by a new generation of musical talent such as the conductor Karel Chichon, concert pianist Aaron Monteverde, tenor Nathan Payas, guitarists Charles Ramirez and Judah Bensadon, soprano Andrea Martin to name a few.
Around five years ago, I was watching a classical guitarist performing at a venue in Surrey, and his programme included some of the famous guitar works that I'd heard William Gomez perform. When I went up to congratulate the performer after the concert and buy a copy of his CD, I told him that his playing reminded me a little of my guitar teacher, William Gomez. He paused for a second, "I know that name, Narciso Yepes spoke very highly of him." William would have loved that.
Here's some links to William Gomez playing (with thanks to Judah Bensadon, a brilliant guitarist and former pupil of William Gomez.)