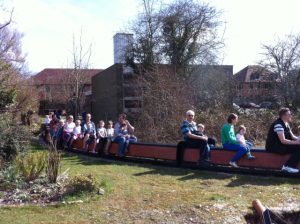 There's a quiet corner of the Surrey countryside that is forever England.  You wouldn't believe it but through an unprepossessing railway arch in Leatherhead, lies the world of the model steam railway.  On 12 days a year this 9-acre site  is open to the public for train rides run by the  Surrey Society of Model Engineers  (SSME.)  It's not just children who go mad for the little trains; they're just as much fun for the grown-ups.
It's one of those hidden gems (probably less hidden once this article is published) that is a throwback to another, gentler age, when a great day out for families didn't necessarily involve exorbitant entrance fees, over-priced food and drink and the obligatory gift-shop before you can exit.  Run by a team of volunteer enthusiasts, the SSME has been going for over thirty years, meeting two or three times a week to tinker with bits of locomotive (all home-made) and train track, building and maintaining their stock of 14 diesel, battery-powered and steam trains.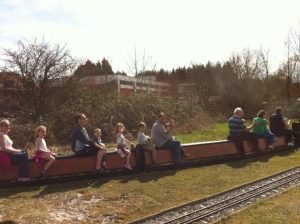 On "public running days" as they're known, men with solid, traditional names such as Roger and John, get dressed up in their old-fashioned railwaymen uniforms and spend the day running train rides.  They clearly enjoy getting their hands dirty shovelling coal, greasing parts that need oiling, checking points and filling up engine boilers with water to make steam.  There's frequent replenishment of large mugs of tea brought over from the old-fashioned canteen opposite the ticket office.  The camaraderie between these train enthusiasts is palpable and there's a spirit of "all hands to the pump" to ensure that everything runs smoothly.  And it does.  I've been to half a dozen of these "running days" but it wasn't until my most recent visit, while my husband went on yet another train ride with our young sons, (see video) that I had a moment to reflect not just on model train rides but what lies beneath.  At the risk of sounding a bit "Pollyanna-ish" I realised that the simple, old-fashioned values of enthusiasm, hard work, camaraderie, passionate attention to detail and politeness which characterise the society of model engineers are truly uplifting. The large, green field encircled by the model railway rides was full of families enjoying a picnic, some were celebrating children's birthday parties, others kicking a ball around as they waited for the next train ride.  All around me were relaxed, happy, smiling faces (and not a games console in sight!)   A simple idea, brilliantly executed in the most un-flashy, thoroughly British kind of way.  The result?  A day of good, honest and inexpensive family fun. Oh and to crown it all, the sun always seems to be shining (at least when we've been.)  Beat that if you can, theme parks!