One of the Mums at my son's school was a model. Everything she wears on the school run, no matter how ordinary, looks fantastic on her. Always. Don't even think of competing in the "school run catwalk" I tell myself, she will always be, quite literally, head and shoulders above the rest. I then play "imagine" (just to amuse myself in a masochistic kind of way.) Imagine looking at yourself in the mirror every morning if you're a model.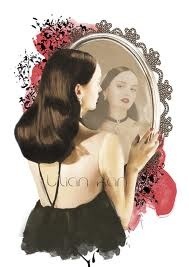 You know that invariably, you'll look great (except perhaps when you're ill) because you were blessed by the DNA-God. How wonderful and liberating would that be? Never having to ask "does my bum look big in this?" because you know the answer will be "no it doesn't." Not trying things on before buying because you know they'll fit beautifully. I'm sure I'm not the only one, dear reader, who would be off her head with joy at the prospect. Now, back to reality. What does that do to a person's confidence throughout their lives and in turn how does it shape a personality? According to research by Northwestern University in America, "physical appearance is a major factor in the development of personality, because people form opinions by what they see in a person physically and respond to that person accordingly. In turn, people tend to fulfill the expectations they believe others have for them." We know "beauty is in the eye of the beholder" but we also know that statistically, you are more likely to succeed in life if you are good-looking than not. Discuss. Write in to disagree if you must. The evidence is all around us. Flip the coin and imagine how it shapes your personality if you are ugly? I'm not talking "average-looking" or "no great beauty" I mean physically unattractive, not being blessed by the DNA-God, "no oil painting" and any number of commonly-used phrases to describe someone who is plain ugly or in some way disfigured after an accident or serious disease. All those I know who fit this description are, without exception, less-than-sunny personalities (an umbrella-term that encompasses grumpy, bitchy, envious, cantankerous, irritable, frustrated, bitter and angry.)
Life is what you make of it and of course there are many famously successful "uglies" that can disprove any theory about the links between good looks and a successful life (think Aristotle Onassis, Woody Allen.) But if it's true that people tend to fulfill the expectations they believe others have for them, would we choose a "head and shoulders" start in the catwalk of life if we could?