Today I decided to do something I've been meaning to do for some time but never had the courage. I've signed up to run a charity race. I wanted to raise funds like so many millions of others, to help find a cure for "the Big C" – that's cancer in case you're wondering. The disease that touches someone, somewhere almost daily. I am willing to bet good money that all of you reading this will know someone who has been affected by cancer. It was 1992 when I first heard about non-Hodgkins lymphoma. The man who first uttered those alien words to me was a doctor, who calmly told me that my father had it. "How did he catch it?" "Oh, it's not catching" he reassured me with a wry smile, deliberately misunderstanding my question to try to ease the tension in the room. 18 months later and despite the best medical treatment in London, my father was dead.


Fifteen years later I was to learn another word I'd never come across: myeloma. "A cousin of leukaemia" the internet research informed me, as if to soften the severity of the word. Carina was my cousin by marriage, a mother of twins in her mid-forties when myeloma struck.
The prognosis was reasonably good considering the seriousness of the disease. Incurable but it could be managed successfully for many years. Once again, the best medical brains were willing this "cousin of leukaemia" to let my cousin live. For a good four years it was held in check and then one New Year's Eve it reappeared, like an uninvited guest at a family party. Carina fought bravely on for another six months until myeloma won. All of the resources needed to fight these terrible diseases cost money. Lots of money. It is for this reason that any money raised towards the fight against cancer – one of many good causes – will be most welcome. It's time I did my bit, more than just putting a few coins in tins on flag days. I am running the Race for Life on 30th June.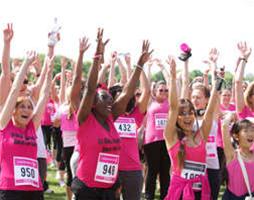 Here is my sponsorship page: http://raceforlifesponsorme.org/helensita
Please sponsor me, it's quick, easy and totally secure.  Events like Race for Life are vital in funding Cancer Research UK's life-saving work into preventing, diagnosing and treating cancer. By sponsoring me, we can unite and create a force that cancer can't ignore. If you are a UK taxpayer, please remember to tick the Gift Aid box when donating as this will increase your donation by at least 25% at no cost to you.